Pak factory makes fake news on CRPF
Pak factory makes fake news on CRPF: CRPF responded to rumors of differences in security forces – the uniform color is different, tricolor in hearts
After being defeated on every front on the issue of Section 370, now, even with the support of fake news, there is no hawk. Pakistan is continuously spreading rumors of firing in Kashmir. At the same time, such reports are constantly being denied by India. India says that a single shot has been fired from the security forces of India.
Nor is any casualty reported. Reacting to such rumors, the CRPF stated that even though the uniform color of India's security forces may be different, there is only one tricolor in the heart.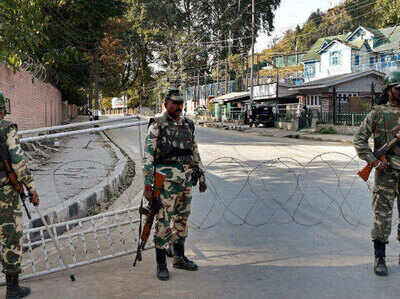 A Pakistani journalist tweeted that differences were emerging between the Indian security forces deployed in Kashmir. The journalist claims, "A Kashmiri policeman shot five CRPF personnel, as they had prevented a pregnant woman from going because of not passing the curfew."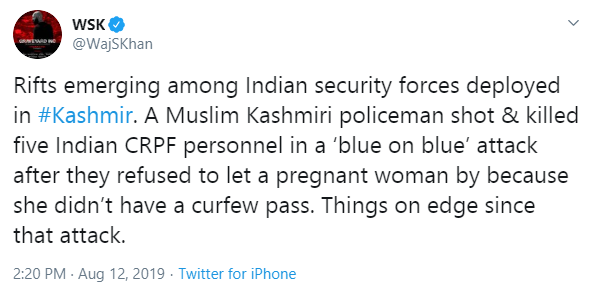 The CRPF also denied these reports, stating, 'The malicious content of this tweet is completely baseless and beyond the truth. As usual, all the security forces of India are working in coordination and harmony. Even though the colors of our uniform vary, patriotism and tricolor dwell in our hearts.
The malicious content of this tweet is absolutely baseless and untrue. As always, all the security forces of India are working with coordination and bonhomie. Patriotism and our tricolour lie at the core of our hearts and existence, even when the color of our uniforms may differ. pic.twitter.com/1Rhrm09dPN

— 🇮🇳CRPF🇮🇳 (@crpfindia) August 12, 2019
At the same time, Kashmir Zone of Jammu and Kashmir Police has strongly denied the content of the tweet. The Jammu and Kashmir Police has asked Twitter to take action on it.
This malicious content is strongly rebutted.Matter has been taken up with @TwitterSupport for action. https://t.co/30SP0UgyMC

— Kashmir Zone Police (@KashmirPolice) August 12, 2019
Further, while replying to this journalist's tweet, Prasar Bharati said, "The rumor of firing in Kashmir and death/injuries of some people are being spread on social media. These reports have been completely rejected. "There has been no firing incident in the state. Neither a single shot was fired by the security forces nor any casualties."
India also canceled the service of Samjhauta train
Police are effectively maintaining peace and public order, taking local decisions on detentions. This is usual and has been done for Panchayat elections, parliament elections and at other times when violence by militants/ separatists was expected.

— Prasar Bharati News Services (@PBNS_India) August 12, 2019
Let us know that on the issue of Article 370, Pakistan is not getting success on any front. Countries like America, Russia have described it as an internal matter of India. In the same anger, Pakistan is not sitting spreading false news of violence in Kashmir.