On Kashmir Pak President said 'we are one'
On Kashmir Pak President said 'we are one' Pakistan's restlessness has been evident since India's decision on Article 370. President of Pakistan Arif Alvi in his address on the occasion of Pakistan's independence chanted the Kashmir raga. President of Pakistan Arif Alvi said that Pakistan and Kashmir are one and the same. Pak always stands with Kashmiris.
Islamabad
Pakistan's displeasure over the Government of India's decision on Section 370 is coming out. After Pakistan PM and Foreign Minister, Pakistan President Arif Alvi said on Wednesday that Kashmiris and Pakistanis are one. Alvi also said that his country and the citizens of the country will stand with the people of Kashmir.
President reiterated the need to take the Kashmir issue to the United Nations
Addressing the main function held on Pakistan's 73rd Independence Day, he made a strong statement against the Indian government's decision to end the special status of Jammu and Kashmir. He said that Islamabad would turn to the UN Security Council against the decision of New Delhi. He said that by changing the special status of Kashmir, India has violated not only the United Nations Resolution but also the Shimla Agreement.
HSSC Various 755 Post Online Form 2019
Talked about giving support to Pakistan to the people of Kashmir
India has clearly stated to the international community that the decision to abolish the special status given to Jammu and Kashmir under Article 370 is a purely internal matter. At the same time, India has advised Pakistan to accept reality. Alvi in his speech assured the support of Pakistan to the people of Kashmir.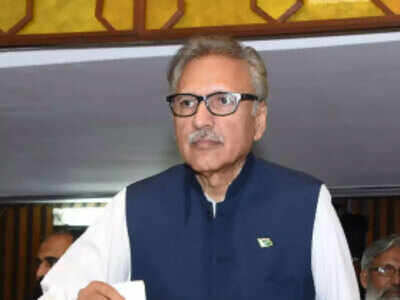 On Kashmir, Alvi said, 'Our sufferings are the same'
"We will not leave them alone under any circumstances," Pakistan's government agency Associated Press quoted Alvi as saying in its report. Kashmiri and Pakistani are one. Our sorrow is one and their tears reach our hearts. We are with them and will stay. He said that India was violating the ceasefire agreement targeting non-military areas along the Line of Control.
President told Pakistan, peace-loving country
The President of Pakistan said, "Pakistan is a peace-loving country and wants to resolve the Kashmir dispute through dialogue, but India should not take our peace policy as a weakness." According to Pakistani media, Pakistanis across the country have celebrated Independence Day, prayers for peace and prosperity are offered in special prayers held in mosques. Let us tell that Pakistan has decided to celebrate Independence Day as 'Kashmir Unity Day'. It has decided to celebrate Black Day on 15 August (on India's Independence Day), against India's decision to abolish the special status of Jammu and Kashmir and to divide the state into 2 union territories.
Must Read: Patriotic classes will now be run in Delhi schools